November production
'Mystery at Greenfingers' – interim rehearsal schedule.
Rehearsals are going swimmingly, with the cast getting to grips with all the entrances and exits they are required to make. It's a very busy staffroom at Greenfingers Palace Hotel! Up to now we are concentrating on who sits on which chair – anyone turning up late to rehearsal may find their seat taken.  It's a crowded stage! But we are now seeing the emergence of the diverse characters and, once books are down, the comedy element and the action will really hot up!
Our backstage crew have worked hard to create an interesting and practical set and, once we start to use our props, the whole play will really take shape.
The Director thanks all involved for their enthusiasm, commitment and patience – and hopes that the post-rehearsal Thursday sociable half-hour makes up for all their hard work so far!!
Schedule from now on to the of end October:
Tuesday 1 October – Repeat of Act II (pp.65-112)
Thursday 3 October – Act I (pp. 1-65)
Tuesday 8 October – Act I (pp. 1-41 books down, 41-65 with books)
Thursday 10 October – Act II ( books down 65-75, 76-112 with books)
Tuesday 15 October – Act I (pp. 1-65 books down)
Thursday 17 October – Act II (pp. 65-112, books down)
Tuesday 22 October – Act I
Thursday 24 October – Act II
Tuesday 29 October –  OPEN REHEARSAL – The first part of Act I (till p. 42)
THURSDAY 31 OCTOBER – YOU HAVE THE NIGHT OFF TO CELEBRATEHALLOWE'EN
Sunday 3 November – 2.30 – 5.30 – The Whole Play
Tickets
Please click to see the full poster and start circulating the event to your contacts. Tickets have been printed and will be available to order from today. Use the following to promote the event:
Further details and tickets are available in from Marlow Information Centre (Marlow Library). Book tickets no
Video back stage
For the next production onwards we will have two stage cameras to relay video to back stage and actors waiting to go on. This has been requested a number of times – great for tracking exits/entrances. Many thanks to Brian for arranging this. We will be testing the system during rehearsals once the set has been completed and see what works / does not work.
Marlow FM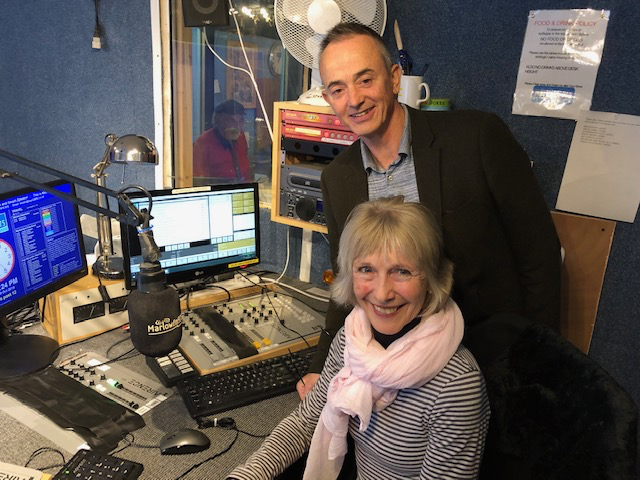 Some great work led by David Choules with Gloria on Marlow FM radio station to feature the Marlow Players and start promoting the show. They had some interview chat and featured a recording of a Murder Mystery. He hopes to run further features in November.
Subs
Members' subs are due 1 June 2019 for the whole of the next year. Please pay on-line or see Brian at the meeting. See Members' page to pay on-line. Many thanks to those who have made contributions already. Pay subs