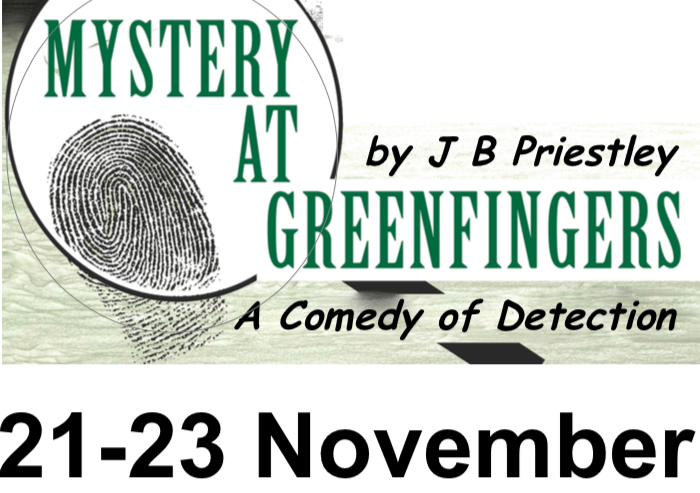 November production
'Mystery at Greenfingers' – interim rehearsal schedule.
Thanks to everyone who has taken a role in this comedy/mystery.  It is a largeish cast, so I should be able to let people off a few rehearsals later on when we rehearse scenes with only a few of the characters.  However, we shall all (available) meet up on Tuesday, 3rdSeptember for our first read-through in the Studio.  I shall probably be calling all the cast for the next few weeks, as l shall start blocking straight away, as there are plenty of entrances and exits to play around with and the sooner the better we get to grips with them. It may take some time to work through the play, but the entrances and exits are important.
I suggest we meet at 8 as usual, read and block till 9.30 -ish, then discuss costumes, hairstyles, etc… while having a 'Back to school' welcome drink!!
From then on it will be drinks after the Thursday rehearsals, as per usual!
See you soon.  Gloria
Tickets
Please click on the graphic to see the full poster and start circulating the event to your contacts. Tickets have been printed and will be available to order from today. Use the following to promote the event:
Further details and tickets available in September from Marlow Information Centre (Marlow Library). Book tickets now
MYSTERY AT GREENFINGERS
Full Length Play, Comedy  /  4m, 6f
A snowstorm traps a group of guests and crew in the Greenfingers Palace Hotel. A detective is sent to the hotel to investigate a top secret crime, but it is Miss Tracey and the new hostess who solve everything.
Arnold –  temperamental chef – Andrew
Crowther – rather put-upon detective – Brian
Keith – youngish manager – Andy
Mrs Heaton – efficient manageress (secretly married to chef) – Hilary
Edna – stroppy (but likeable) bookkeeper – Karen
Sally – cynical waitress – Jossy
Clara – naive, sweet waitress – Wendy
Helen – posh social hostess – Laura
Fred – changing to Freda – jaunty cocktail waitress – Sharon
Miss Tracey – inquisitive, Miss Marple-like spinster – Di
Mrs Hanigan – tbd
Director – Gloria
Stage Manager – Caroline
Props – Jacy
Sound – Alison
Lights – Raymond and team
Studio Update
We need to continue to keep our studio fit for purpose. The plan is to complete the 'outside painting' next week end. Plan is paint on  Saturday morning 7th September, 10:00-13:00. If you can help, then please let Brian know. Thanks.
Video back stage
For the next production onwards we will have two stage cameras to relay video to back stage and actors waiting to go on. This has been requested a number of times – great for tracking exits/entrances. Many thanks to Brian for arranging this. We still need one more video screen / monitor to complete the system. Do you have a small PC/ TV monitor that we could use? It can be VGA or HDMI inputs.. Please let Brian know if you have a suitable spare monitor you could donate. Thanks.
Subs
Members' subs are due 1 June 2019 for the whole of the next year. Please pay on-line or see Brian at the meeting. See Members' page to pay on-line. Many thanks to those who have made contributions already.
Marlow Entertainers
You may have heard that Ray and Jen Weeks with others have decided to close the society. They produced the local panto for many years, often with local teenage talent. They have recently made a donation to the Marlow Players and MAOS in equal measure to disperse any remaining funds for which we are very grateful. We have now received these funds. We wish them well.