August newsletter
AGM
Many thanks to those who attended the 81st AGM in June. We were able to report a flourishing society with some excellent productions and events last year. Minutes of meeting, written up by Hilary, are now posted here. 
Canoe trip
We had a great time making the Henley to Marlow annual canoe / picnic trip. Good time had by all, and finished up the the The Two Brewers, all present and correct! Many thanks to Brian for arranging and Jossy for assisting with the lunch stop arrangements.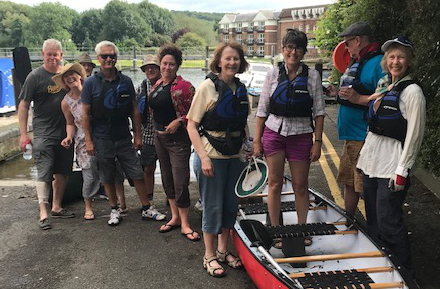 Strawberry Tea 11 August
Our annual summer gathering is at Di Hudson's, in a lovely position overlooking the Thames Valley behind Bourne End. Times are 3-6pm.
Venue: Greenbanks New Road Bourne End Bucks SL8 5BZ  tel. 01628 520516  mobile 07792 035 848
Di will provide Pimms and strawberries, juice and cups of tea.  All other contributions welcome for an afternoon tea. Savoury or sweet.  If you wish to drink anything else you are welcome to bring it along. It would also be really helpful to know roughly how many people might be coming please, so we can judge the number of strawberries etc.  Useful also to know if anyone is bringing children so we can get out some toys. You are welcome to bring partners, parents and children, but please no dogs.
Directions
NB.  Sat Nav will tell you that you have reached your destination before you get onto the unmade road. Ignore this and continue up the unmade road  – or leave your car and walk up! (10 mins)
From Marlow:

Take road to Bourne End A4155. Pass through parade of shops. At the mini roundabout turn left to Wooburn Green. After 100m turn left into New Road. Follow New Road to the top and carry straight on up the unmade road for 0.3 mile. Past white fence and house labelled Brantridge You pass a large concreted entrance to a field gate on the right. 30m after this turn left, signed Valley View Nursery and Greenbanks. Greenbanks entrance is first left through big wooden gates.
Look forward to seeing you on Sunday.
November production
We have completed the additional casting in July for the November production. Casting as below. Rehearsals will start early September. See September newsletter for more details; probably 3 September.
MYSTERY AT GREENFINGERS
Full Length Play, Comedy  /  4m, 6f
A snowstorm traps a group of guests and crew in the Greenfingers Palace Hotel. A detective is sent to the hotel to investigate a top secret crime, but it is Miss Tracey and the new hostess who solve everything.
Arnold –  temperamental chef – Andrew
Crowther – rather put-upon detective – Brian
Keith – youngish manager – Andy
Mrs Heaton – efficient manageress (secretly married to chef) – Hilary
Edna – stroppy (but likeable) bookkeeper – Karen
Sally – cynical waitress – Jossy
Clara – naive, sweet waitress – Wendy
Helen – posh social hostess – Laura
Fred – changing to Freda – jaunty cocktail waitress – Sharon
Miss Tracey – inquisitive, Miss Marple-like spinster – Di
Director – Gloria
Stage Manager – Caroline
Sound – Alison
Lights – Raymond and team