April newsletter
Curtain Up On Murder
Congratulations to the cast and crew for the last production. it went very well on stage, very smooth backstage as well. And congratulations to the the new folks Katy, Sharron and Justin. Great to have you with us! Pictures are here
Tidy up night 10 April
If you enjoyed being part of the team, then guess what? We need to tidy up the studio, props and make a few repairs etc. So please come along from 8.00pm in the studio and see what needs doing. Pub afterwards I'm sure. Thanks in advance.
French Visit
As mentioned before we will have the French twinning event taking place next month. So far we have enough places to accommodate everyone for overnight stays – so thanks to everyone for helping. Its not always easy. We have made one change – as its Pub in the Park event on the same day we have now booked Bourne End Community Centre for the performance night away from the crowds in the park. Next time new will have to check for this as it was booked two years ago before this new event was part of the town calendar. More details here. We will need some help in promoting the show to interested parties, such as language circles, W3A and twinning groups as well as our regular lists. Details of the production are posted here and on the web front page.
Tony Bew collection
As you know we made an effort to make a collection over the performance nights for Cancer UK in memory of Tony. Gloria reports the in fact we raised £421 over the three nights. So thanks to everyone for that.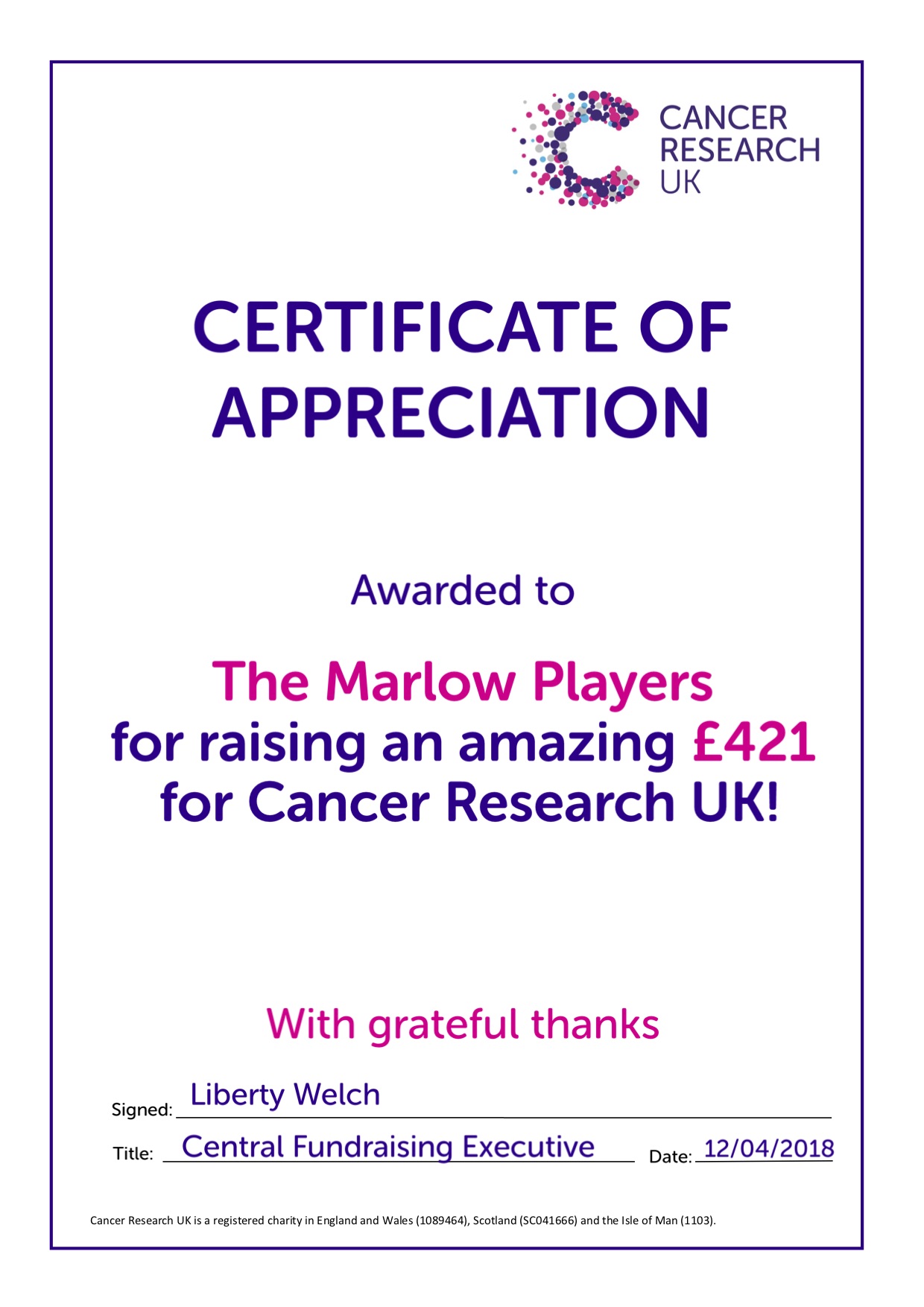 Autumn production
Between major events we can start reading a few potential plays for the November production. And reading them for fun as well, of course. Andrew has suggested a few we take a look at over the next few weeks.
All of these apart from  Panic Stations, are at Reading, and I'll look to collect some for when we start reading. There are 16 other Derek Benfield plays there, so might look at them!
1  Frank Vickery: Trivial Pursuits  ISBN 978 0 573 11469 4       M4 30s F6 20s 30s. We could perhaps be a little generous on the ages! Apparently slapstick, farce and pathos and drama. Scene a garden/ patio area.
2  Straight and Narrow Jimmy Chinn: comedy  M4 F3 + female voice
3  Rookery Nook Ben Travers  M5 F6
4  Local Affairs Richard Harris, and
5  Party Piece  M3 F4 Two full length plays, the second following on from the first.
6  Panic Stations: Derek Benfield M4 F5
7 Mr Whatnot  Alan Ayckbourne M7 F4 doubling possible.
Mr Whatnot is Mint, the piano tuner, summoned to the home of Lord and Lady Slingsby-Craddock. Once there, he falls in love with their daughter, Amanda elopes with her, fails to save her from marriage to Cecil but wins through in the end. With plenty of mime and sound effects this offers opportunities to an imaginative director for a highly entertaining and unusual production ( Mime seems a good idea if going to France, and the visual comedy of the following one….
8 Pull the Other One Norman Robbins:M4 F3  When Albert's mother in law, Boadicea discovers a letter written to Albert by his friend Hilary she refuses to believe Hilary is a man. Along come Hilary, straight from his drag act at a local pub in wig and gown. Further disasters ensue as Hilary tries to make amends for the trouble he has caused…
7 and 8 seems good for France and relatively easily staged. Furniture plus entrances, I assume.
3 is a classic English Farce from the 1920s/30s
1 by same author as  A Night on the Tiles, which I thought a very well written piece.
Murder mystery
Back by popular demand! Over the summer we plan to have one, or maybe two, murder mystery evenings like we did last summer. We have a new title to try out and rehearse, so if you would like to have a part, then come along on the days! What I like about these is that you really can 'ham it up' and look – no need to learn the script either! We have an idea to perform one night at Liston Hall, and another an invitational with a local Rotary.
Chiltern Shakespeare
are putting on 'RICHARD III' at Hall Barn, Old Beaconsfield, as usual. While the actors perform outdoors, the audience is inside a large marquee. If we stick with a FRIDAY night, we could go on Friday, 22 June; curtain-up at 8.00pm.  Cost  = £19.00 per person. Picnic opportunity in the delightful grounds from 6.00pm – we usually meet up at 6.30pm for a group picnic.  Bring your own food and drink and dress in warm clothes. If interested, please contact me as soon as possible, with your preferred date. The earlier we book, the better the seats.
'Richard III is a story of jealousy, manipulation and deceit based on Sir Thomas Moore's unfinished 'History of King Richard III'.  At the end of the bloody Wars of the Roses between the rival Houses of Lancaster and York, the victorious Yorkists look forward to a period of peace under the newly-crowned Edward IV.  But Richard, Duke of Gloucester, has other ideas.' Contact Hilary if you want to attend as a group on the selected date.
Events
10 April Tidy up
17 April Reading I
24 April Reading II
1 May Murder Mystery rehearsal / read through
8 May Reading III
15 May no meeting – prep for French visit logistics as needed
18 May – French weekend visit commences Details here.
June 5 AGM – all should plan to attained. starts at 8.30 pm followed by social.
June reading and casting for November production
June 22 – Chiltern Shakespeare Richard III
July 20 or 21 Murder Mystery performance, Liston Hall
July 22 Strawberry tea at Di Hudson's in Bourne End.