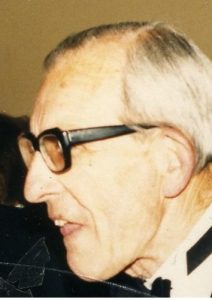 Founder of The Marlow Players Drama Society in1937
The Marlow Players, and the members who remember Russell, feel very bereft at the loss, this January, of the founder member of what is now The Marlow Players. Russell is very much in our thoughts and those of our French Twin-Town drama group, Les Baladins de Marly-le-Roi as we all remember with gratitude his contribution to the friendship that has developed between the two societies.
How flattering that Russell considered The Marlow Players "His Life" – no doubt our Studio his second home.  What a legacy he has left behind.  He was "Mr Theatre" through and through.  How lucky was Marlow to have him in their midst.
For The Marlow Players, over the years, he wrote his own plays, directed, acted, designed and built the sets and passed on his enthusiasm for amateur theatre, running workshops to master various skills through the summer months. He could play any part – as he did while directing and tutoring the actor exactly as to how he wanted the part portrayed – and latterly he served as our much esteemed President, earning everyone's respect
Over thirty years ago Russell's knowledge of French instilled his interest in twinning with Les Baladins de Marly-le-Roi, France – Marly now being Marlow's official twin-town.  It was Henri Buthod, the President of Les Baladins, and Russell who inaugurated the tie between the two drama groups.  Every other year we take across our spring production and are very well hosted and we return the compliment the next year when they bring across a French play.  Many of Les Baladins remember Russell and hold him in high esteem and always ask after him.   The twinning is still happening.  We're off to France in April with "The Importance of Being Earnest".  We owe this connection solely to Russell – and many great friendships have been created over the years.
After seventy years I am delighted to say that The Marlow Players are moving on from strength to strength – all thanks to Russell's foundation so many years ago.  He was the solid pillar of The Marlow Players.  Amateur Theatre in Marlow is so much in Russell's debt.
I hope he would have approved of my eulogy in his name – I'm sure he could have written it better – I know he could – a master of so many skills – which he imparted, so unselfishly, to so many.
Russell will always be remembered as our Founder Member, a great man of the theatre, full of fun with so many skills passed on to our membership over the years.  How lucky we were to know him and share his enthusiasm and knowledge of "theatre".
The Marlow Players will be making a donation to a theatrical charity in his name.  We think Russell would approve.  And we will be dedicating our spring production of "The Importance of Being Earnest" to Russell – the man to whom we owe The Marlow Players existence today – 70 years on.
Thank you, Russell.
Olive Smith – Former President, The Marlow Players