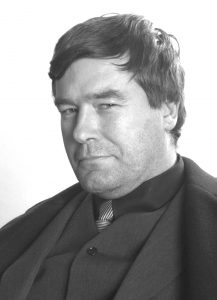 For this year's November production we are presenting "Kindly Leave the Stage" by John Chapman. Perhaps you've never heard of him, but I'm sure you've seen his work over the past 50 years.
His first play "Dry Rot" opened at the Whitehall Theatre, London in 1954. As a result of the success of this play, he decided to concentrate on his playwriting. His next play "Simple Spymen" was followed by "The Brides of March", Diplomatic Baggage" and "Oh Clarence". John is well known for his collaborations with Carla Lane on "The Liver Birds" and Ray Cooney in the ever-popular comedies, "Move Over Mrs Markham", "My Giddy Aunt", "Not Now Darling" and "There Goes the Bride." The early sixties witnessed the beginning of a long relationship between Chapman and the BBC. He has written over two hundred TV comedies including "Blanding's Castle" for Sir Ralph Richardson, "Happy Ever After" (co-written with Eric Merriman), as well as 26 episodes of a highly successful Thames Television series "Fresh Fields", with Julia McKenzie and Anton Rogers, which won the EMMY Award in the US for the most popular comedy.
This is one of his lesser-known plays and has been a challenge for both the cast and myself. Most of the characters spend one half in acting reality and the other half in acting fiction. I think that the hard work has been well worth while and hope that you, the audience, will enjoy it as much as we have preparing and presenting it.
Tony Bew – Chairman and Director