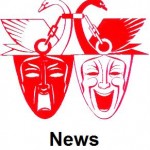 I'm pleased to announce the cast list for our next production
Our next production is Out of Sight… Out of Murder by Fred Carmichael
Summary:
Peter Knight is grinding out a murder story in an old mansion where another author was murdered years before. A weird electrical storm effects a cosmic snafu and his characters come to life. There's the lovely ingenue, the trusty butler, a feisty character woman, a dauntless hero, a fascinating "other woman," the always pregnant serving girl, and the wily lawyer waiting for midnight to read the will. Peter looses control of his characters and there is a murder; the intended victim is Peter. Other murders follow and the culprit is among characters who, having also worked for other authors, know a great deal about the subject. Can Peter find the killer before the killer gets his author? Is romance with the ingenue leading anywhere? Where is the fortune mentioned in the will? All is solved ingeniously with romance, suspense and cosmic wit.
"Refreshing, witty parody." – Sharon Patroit Leader
"Uproariously funny." – Greenwich Press Post
"Full of laughs, absorbing and entertaining." – Times Argus, Montpelier
Out of Sight…Out of Murder was first performed  by the Valley Players in Waitsfield, Vermont. It was directed by Curtis Wright.
Cast
PETER – Andy Scott
LYDIA – Jen Major
COGBURN – Brian Couling
KAY –  Charlotte Futcher
EUDORA (FIONA) – Hilary Cox
ADDIE – Laura Goodband
DICK – Dan Stock
JORDAN – Andrew Stafford
MINNA – Jossy Pearce
Rehearsal Schedule – March – April
Greetings!I have revised the rehearsal schedule, which Brian will put on our website or newsletter shortly. I have included Sunday rehearsals, as we need to run the whole play very soon.
We shall hold an Open Rehearsal on Thursday 10 March – Act I. I have chosen that date as it is the last time all the cast will be around for quite a while. Sunday rehearsals will start either at 3 or 4, to suit everyone's convenience.
8.00 PM 22 MARCH – ACT I and II
24 MARCH – HOLIDAY
27 MARCH – HOLIDAY
8.00 PM 29 MARCH – WORD BASH w/TONY
8.00 PM 31 MARCH ACT I AND II
4 PM SUNDAY 3 APRIL WHOLE PLAY – IN COSTUME PLEASE
8.00 PM TUESDAY 5 APRIL ACTS I AND II
8.00 PM 7 APRIL ACTS I AND II
12.00 SUNDAY 10 APRIL GET-IN, ACTORS 3.30 PM
7.00 PM MONDAY11 APRIL TECH.
7.00 PM TUESDAY 12 1ST DRESS
7.00 PM WEDNESDAY 13 FULL DRESS
7.00 PM THURS/FRIDAY/SATURDAY 14-16 PERFORMANCE NIGHTS
12.30 SUNDAY 17 APRIL GET-OUT (12.30 not noon, as usual)
All going well so far – lots of fun!! Gloria