We are organising a programme of monthly webcast readings for our supporters and Players alike during the lockdown period. We hope this will provide you with some entertainment as well as being some social interaction for our members.
Cast:
Lord Albert – Andrew
Lady Clarissa – Michelle (if she feels able to do an American accent, that would be great)
Lord Cecil – Andy
Lady Elizabeth – Jossy
Penelope – Wendy
Randolph – Andy
Mrs Pyles – Alison
Andrew Hardwick – Max
Burke – Brian
Betty – Olive
Inspector Dick – Max
Narrator – Hilary
In order to hear these: Use Shift key and click on the Recording link to download the whole file. Then play the downloaded file.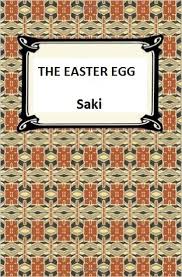 In order to hear these: Use Shift key and click on the Recording link to download the whole file. Then play the downloaded file.
The Easter Egg by Saki has been adapted for radio by Andrew Stafford – thanks Andrew. The story is about the threat of terrorism to Edwardian order. It wasn't imaginary. The terrorists – anarchists, Russian radicals, Macedonian irredentists, and so on – could not of course overthrow the governments of the Great Powers by killing presidents and tsars, any more than al Qaeda can overthrow the governments of the USA or even Saudi Arabia. But one of them, Gavrilo Princip, did provide the spark that set off the First World War: the assassination of Archduke Franz Ferdinand near the railway station in Sarajevo served as a pretext to hardliners in Vienna to settle the Serbian question once and for all. The station, a pretty little thing, has survived two world wars and the siege. Private Munro was not so lucky. He was killed on the Western Front in November 1916, one of the 20 million or so victims of Princip's Easter egg.
Announcer:  Olive Smith
Lady Barbara: Michelle Hatfield-Spencer
Miss Grey: Karen Moyse
Burgomaster: Brian Couling
Lester : Andy Scott
Slavic Lady: Gloria Kendrick
Slavic Gent : Andrew Stafford
In order to hear these: Use Shift key and click on the Recording link. Then play the downloaded file.
Best Laid Plans By Max Sasim
When Clarissa Howard has an extension built onto her Islington home, she little thinks that in addition to providing constant tea and attention to the builders in her usual overly polite manner, she will have to cope with her hubby being absent through work, her errant brother descending on her out of the blue and other unforeseen events occurring to disrupt proceedings. Not to mention family secrets raising their unwanted heads. Set in the late 1980s, Best Laid Plans is a comic play with a dark underbelly.
Clarissa -Jossy Perce
Aaron – Max Sasim
Terry – Alan Frost
Dougie – Brian Couling
Ariadne -Mandi Gowers
Audrey – Julia Ashton
Richard – Andrew Stafford.
Billy – Andrew Pitman.
Hermione – Karen Moyse
Narrator- Michelle Hatfield Spencer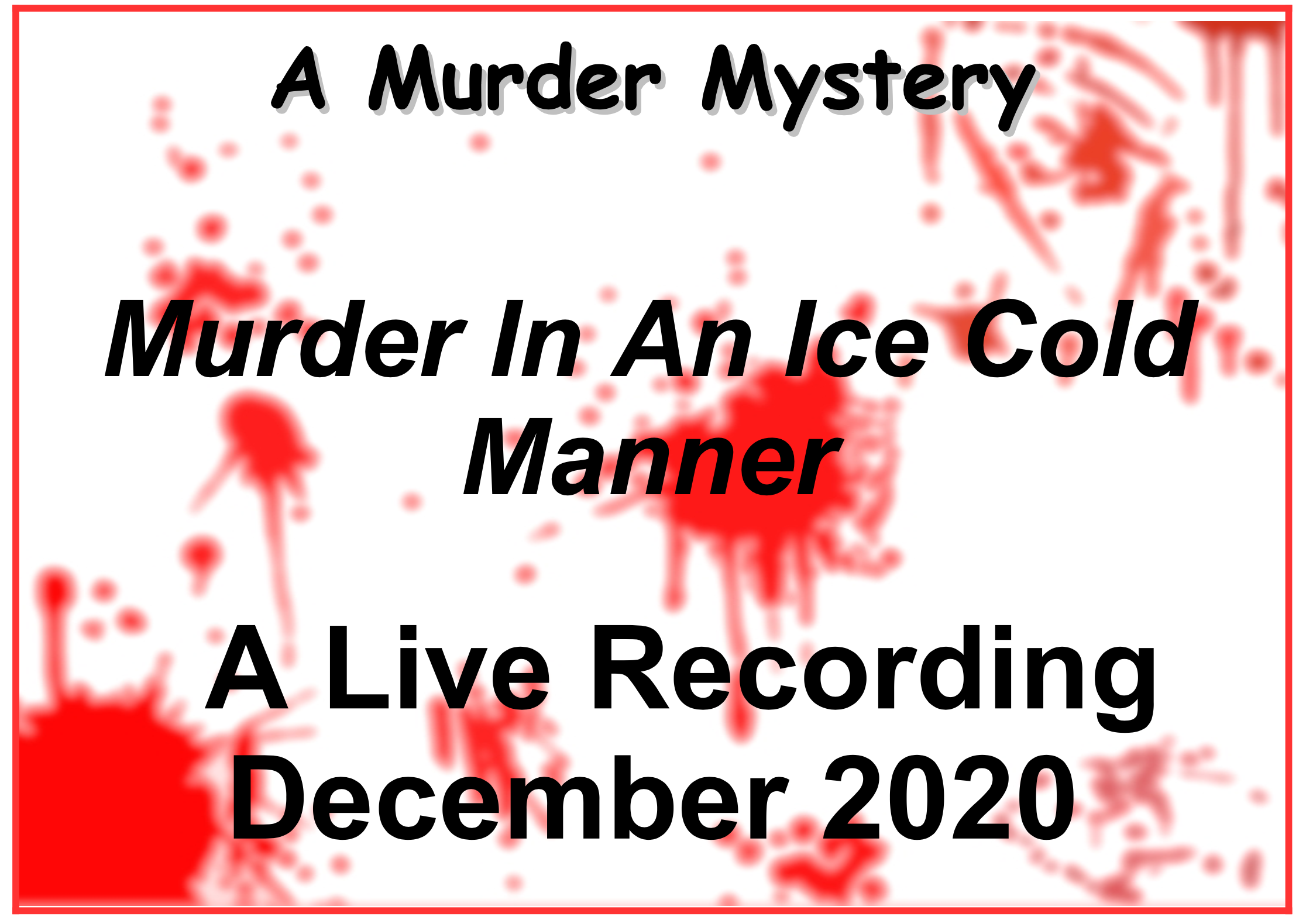 Murder In An Ice Cold Manner is one of a series of Murder Mystery plays performed locally by the Marlow Players and is an amateur written play adapted for radio by Gloria Kendrick.
Cast:
Sir Brian Burrows – Max Sasim
Lady Sylvia Burrows – Jossy Pearce
Lord Guy Stocksley – Brian Couling
Mirabelle ' Mimsie' Baker – Alison Rogers
Ruth Conrad – Wendy Gammond
Catchpole Andrew Stafford
Narrator – Hilary Cox
Director – Gloria Kendrick
Sound and Recording – Brian Couling  and Andy Scott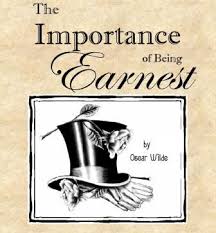 The Importance of Being Earnest, A Trivial Comedy for Serious People is a play by Oscar Wilde. First performed on 14 February 1895 at the St James's Theatre in London, it is a farcical comedy in which the protagonists maintain fictitious personae to escape burdensome social obligations. Working within the social conventions of late Victorian London, the play's major themes are the triviality with which it treats institutions as serious as marriage, and the resulting satire of Victorian ways. Some contemporary reviews praised the play's humour and the culmination of Wilde's artistic career, while others were cautious about its lack of social messages. Its high farce and witty dialogue have helped make The Importance of Being Earnest Wilde's most enduringly popular play.
Cast:
Lord Algernon Moncrief – Andy Scott
Lane, Butler – Gloria Kendrick
Earnest Worthing, Jack – Max Sasim
Lady Bracknell – Jossy Pearce
Miss Fairfax, Gwendolen Hillary Cox
Miss Prism – Wendy Gammond
Cecily Cardew – Michell Spencer-Hatfield
Canon Chasuble – Brian Couling
Merriman – Gloria Kendrick
Director – Andrew Stafford
Sound and Recording – Alison Edwards  and Andy Scott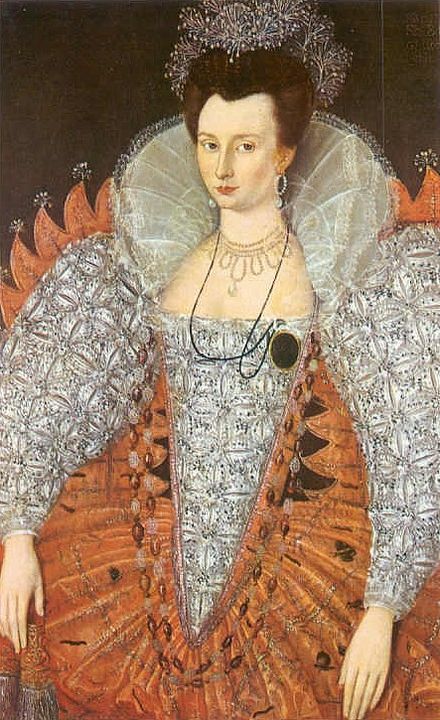 The Dark Lady of the Sonnets is a 1910 short comedy by George Bernard Shaw in which William Shakespeare, intending to meet the "Dark Lady", accidentally encounters Queen Elizabeth I and attempts to persuade her to create a national theatre. The play was written as part of a campaign to create a "Shakespeare National Theatre" by 1916.
Cast:
Beefeater – Brian Couling
The Man – Andy Scott
The Lady – Gloria Kendrick
The Dark Lady – Michelle Spencer-Hatfield
Narrator – Wendy Gammond
Director – Andrew Stafford
Sound and Recording – Brian Couling and Andy Scott
The Bear: A Joke in One Act, or The Boor (Russian: Медведь: Шутка в одном действии, tr. Medved': Shutka v odnom deystvii, 1888), is a one-act comedic play written by Russian author Anton Chekhov. The play was originally dedicated to Nikolai Nikolaevich Solovtsov, Chekhov's boyhood friend and director/actor who first played the character Smirnov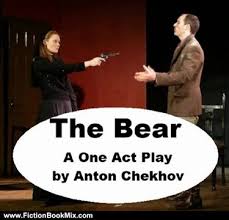 Cast:
ELENA IVANOVNA POPOVA, a landowning little widow, with dimples on her

 

cheeks

  – Karen Moyse

GRIGORY STEPANOVITCH SMIRNOV, a middle-aged landowner

 

 – Brian Couling

 

LUKA, Popova's aged footman – Andrew Stafford
Director – Gloria Kendrick
Sound and Recording – Brian Couling and Andy Scott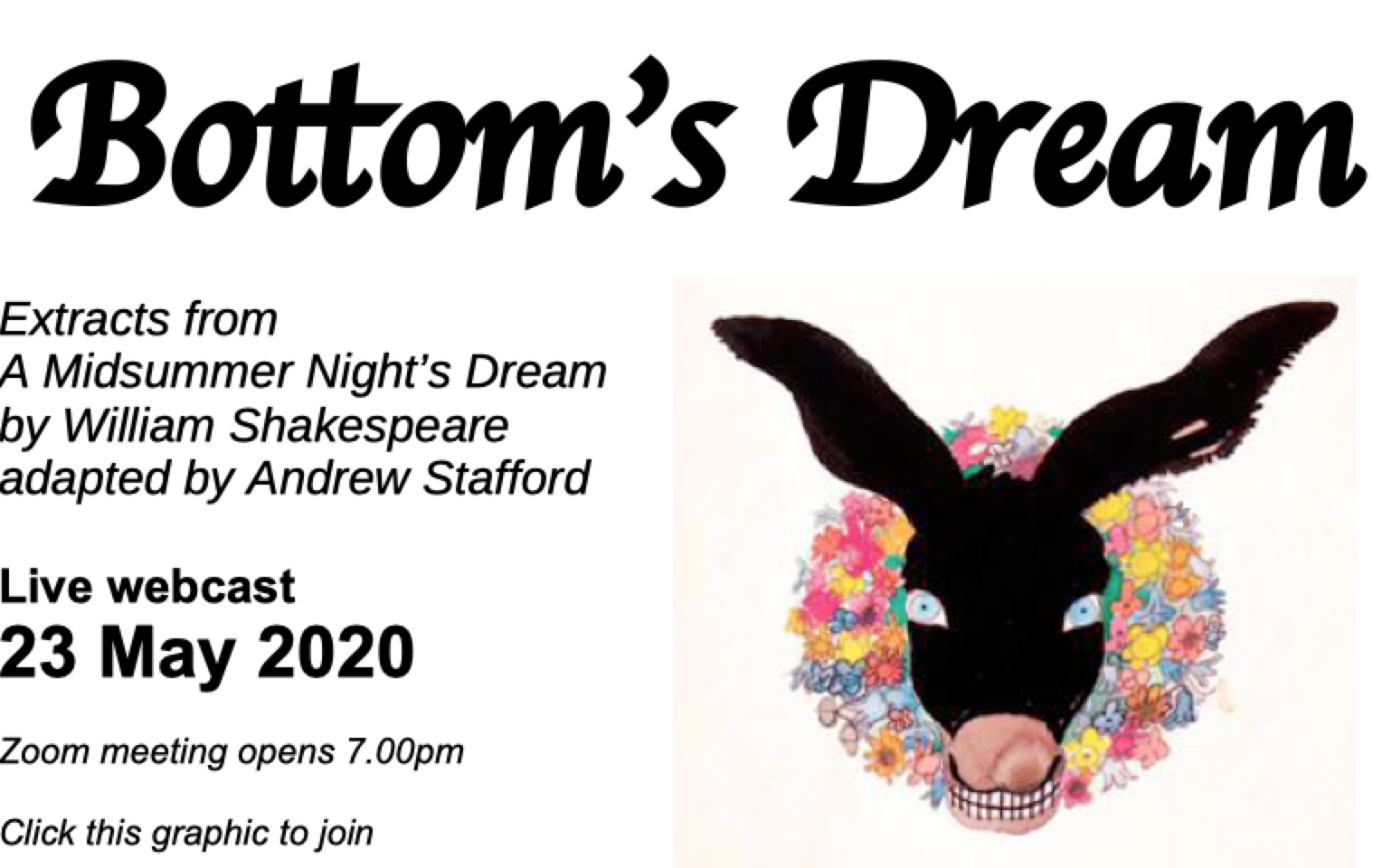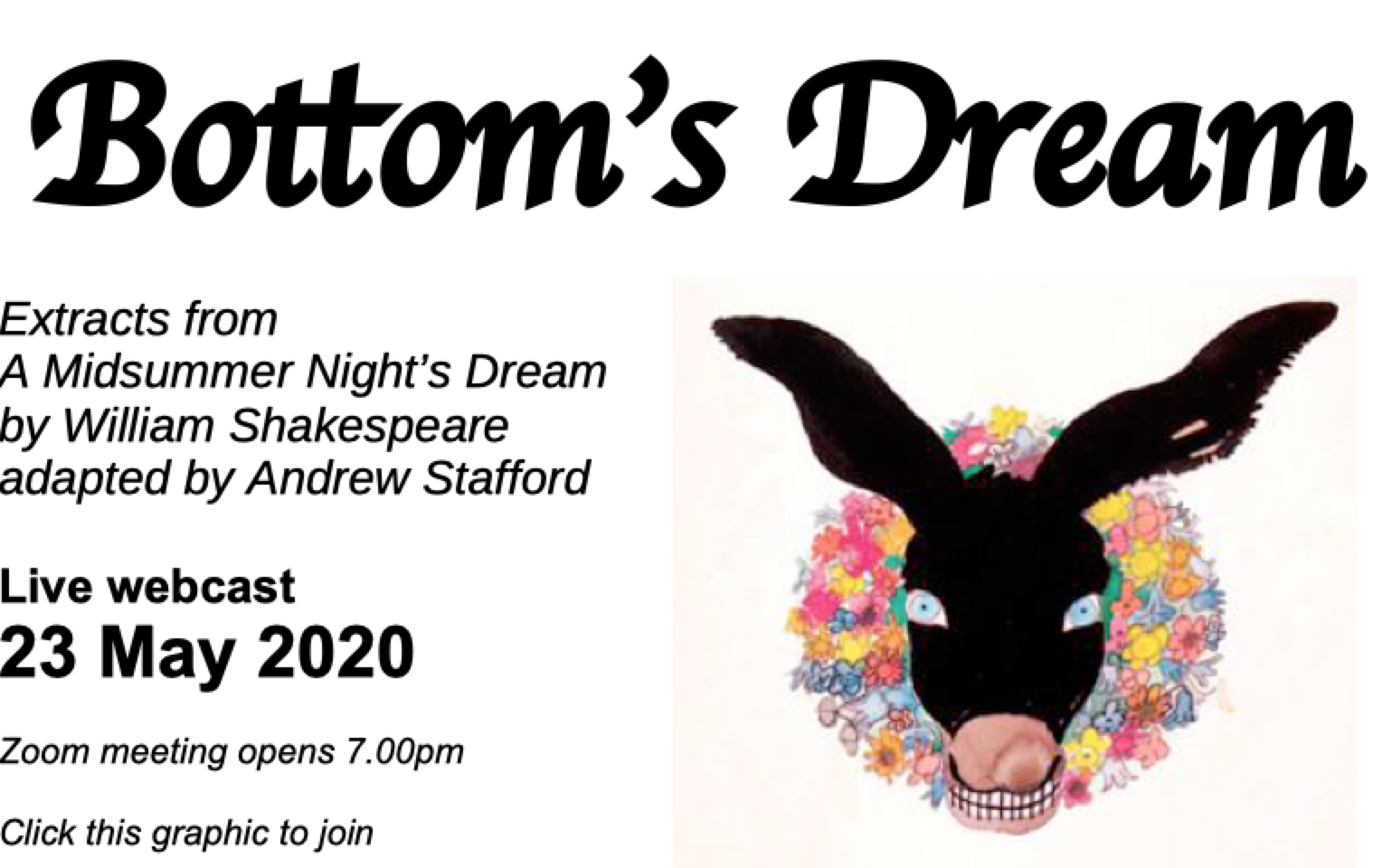 Listen again by clicking on the graphic or here
Adapted for radio by Andrew Stafford. A Midsummer Night's Dream is a comedy written by William Shakespeare in 1595/96. The play consists of multiple subplots that revolve around the marriage of Theseus and Hippolyta. One subplot revolves around a conflict between four Athenian lovers, one about a group of six amateur actors who has to act out their interpretation of the play 'Pyramus and Thisbe' at the wedding of Theseus and Hippolyta. These subplots take place in a forest, inhabited by fairies who control the characters of the play. The play is one of Shakespeare's most popular works for the stage and is widely performed across the world.
Cast
Bottom, Pyramus: Andy Scott
Flute, Thisbe: Hilary Cox
Snout, Wall: Alison Edwards
Starveling, Moon: David Choules
Snug, Lion: Wendy Gammons
Quince, Prologue: Olwen Elliott
Titania, Hippolyta: Gloria Kendrick
Oberon, Theseus: Andrew Stafford
Puck, Philostrate: Brian Couling
Fairy 1 and Cobweb, Hermia and Helena: Wendy Gammons
Fairy 2 and Peaseblossom: David Choules
Fairy 3 and Moth: Olive Smith
Fairy 4 and Mustardseed, Demetrius: Alison Edwards
Sound: Alison Edwards
Director: Andrew Stafford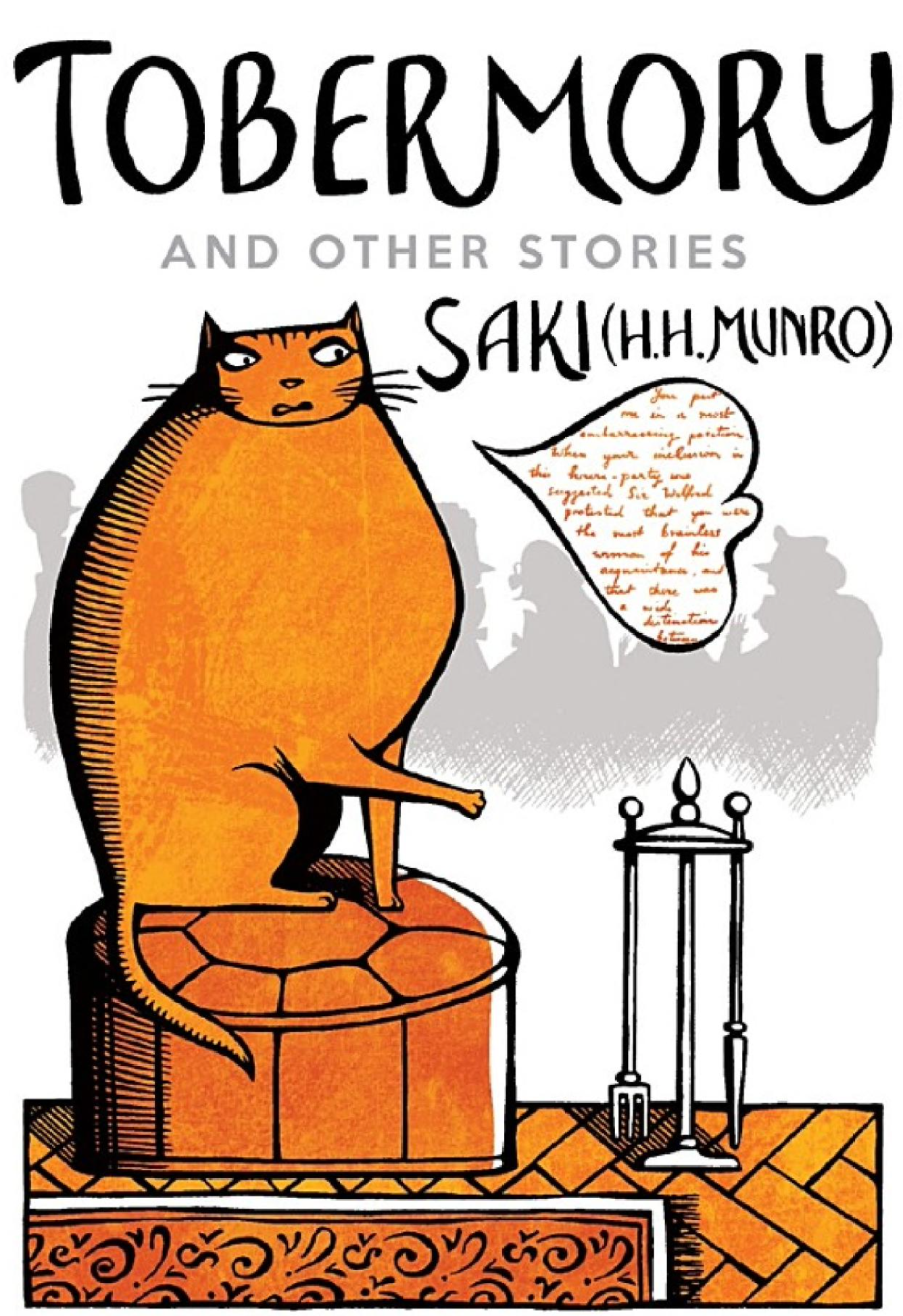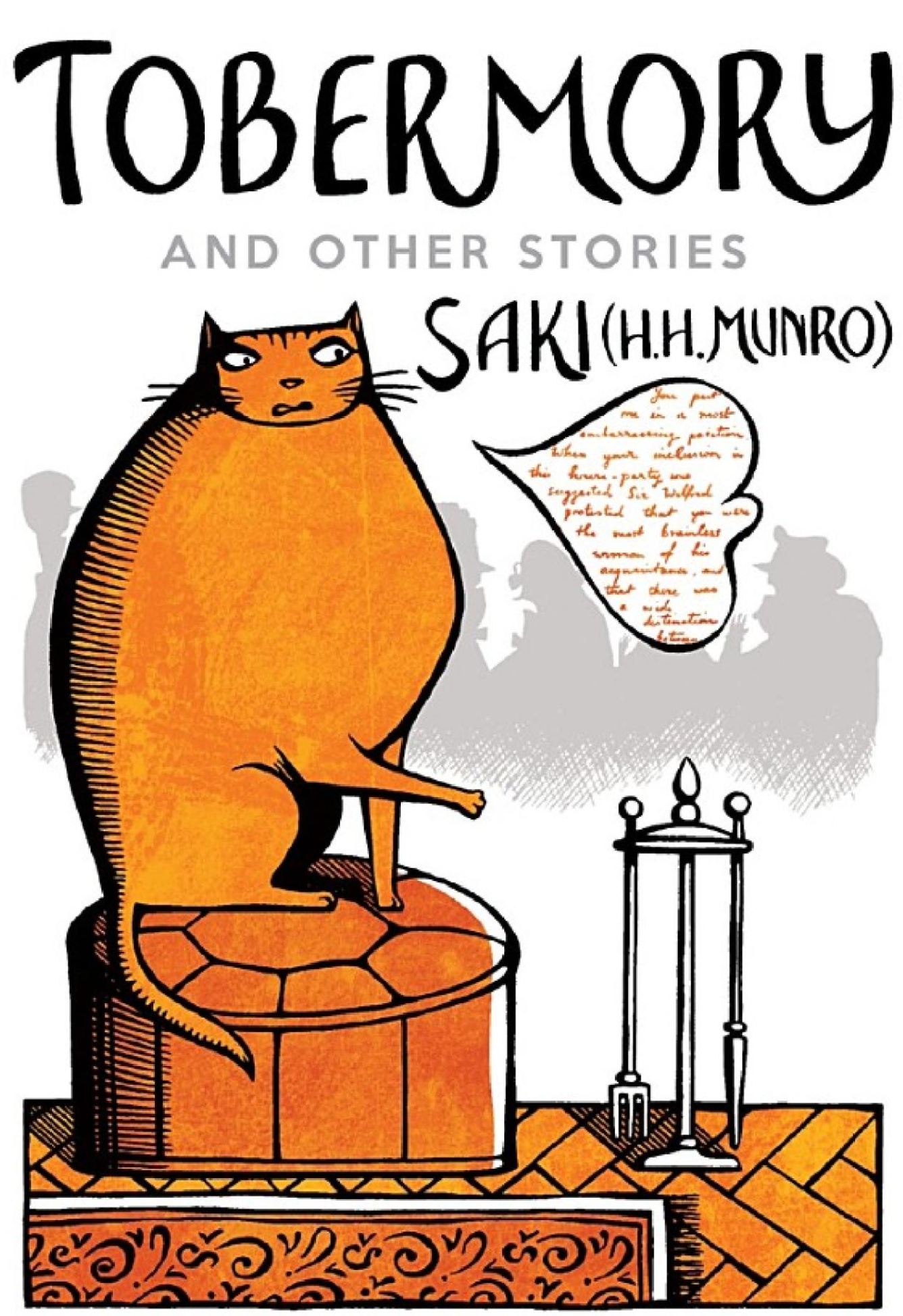 Listen again by clicking on the graphic or here.
This ply is not recorded for playback.
This month's webcast production  is written by one of our members, Max Sasim, and many of you will have seen him on the stage in previous productions. In Trivial Pursuits he was the host of a very chaotic summer BBQ for the operatic society! Max also makes a huge contribution in our set construction efforts. It's a great new play which will be performed by members for you, our supporters. We will introduce the cast so you can get to know them and there will be a short interval just as if we were on stage. We really look forward to you joining us in the audience!