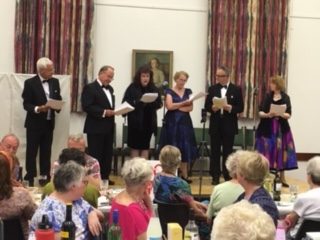 Many thanks for your support for our last production:
Murder Mystery Evening
Performed 5th July 2019. Liston hall.
Staged as a 1940's radio play we had a cast of actors playing in costume. a murder mystery play. The audience have their own supper pic-nic before the performance and during the long interval.
During the long interval we have a Crime Quiz and Guess the Murderer competition.
Following that we have the final Act denouement where you discover your sleuthing skills!
If you want to attend our next event, please join our mailing list for future productions
New Players most welcome …
Are you interested in the theatre?
If so then we would love to hear from you
What is your particular interest?
Becoming an acting member?
Becoming a back stage member?
Become a friend of the Marlow Players?
Join our mailing list for future productions
Then why not email our secretary and find out more?  Get involved